18Eighteen Review
18Eighteen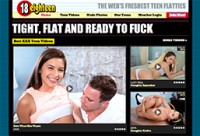 Price: $2.99 (3 day access)
The 18Eighteen is a magazine, and you may have already seen it somewhere. This site is the official porn portal of the magazine, and with nearly 20 years of updates and publications behind its back, it's one of those sites we recommend to you.
00000
18Eighteen Review
Site Overview
When you enter the 18Eighteen, you will see many cute girls appearing on the photos, and believe us when we say they do some outrageous things in the videos. This website launched in 1998, so it's a real veteran, and fortunately, it's still active. There are several update occasions every week – however, they only add one video per week, the rest of the updates are photos. The newest scenes come in High-Definition, and the photos are standalone sets of digital stills. Since the site has a long record, it offers you more than 400 videos, while the count of the photo sets is well over 2,000. There are two bonus websites included with your membership, the TNATryOuts and the PickingUpPussy. Both sites are powered by the same company, and they offer you some juicy porn with many more cute girls.
Design & Features
You will love the home page of the 18Eighteen. It has large, sharp photos listed, and you can watch some exciting trailers for the videos listed on the tour page. These clips are quite convincing, and if cute girls are what you are looking for, you are going to find yourself in a lucky position. Since it's a professional site, the members' zone has every important feature you need to be able to navigate through the content in a comfortable way. There is a search field on the top. You can also browse the photos and the videos separately, and the models' list could be helpful too – the site is mobile-friendly.
Every video you can find on the site is available for in-browser viewing, just as they are available for downloading. No matter which one you choose, you get the option to enjoy your porn in 720p, so you just need to sit back, get ready, and start the video. There are no download limitations, thus you can drag everything to your hard drive. If you take advice, you should check the photo sets too, because they aren't just looking great, but there are many standalone galleries among them.
Girls & Videos
On this site, mostly Caucasians appear, however, you might see among these hotties are few cute Asians and Latinas. These videos are fresh, crispy, and they are very mainstream. Though the sex is a bit rough, this site doesn't have you any heavy pornography, so you mostly get a selection of vanilla hardcore, getting harder sometimes. Every video is studio-made, and they come from the regular story-driven videos: there is always a situation, which gets hardcore after a while. The girls play with their body, or they get fucked. The solo videos are sexy, these cuties know how to fuck themselves, and they even seem to reach orgasms sometimes – but we found them trying way too hard to look excited, and this overplaying makes the videos ring fake.
We must say that the best stuff is in the hardcore section of the site because those videos are much exciting and more believable than the solo flicks. Naturally, it's mostly vanilla hardcore with vaginal penetration. However, one of the guys is a regular on another reality porn site, and he prefers the pussies wet and tight… oh, and he likes it rough, so his huge cock is going to give a hard time to these cuties. Overall, the videos of the site are sexy, hardcore, and you might find a few that you may find extraordinary.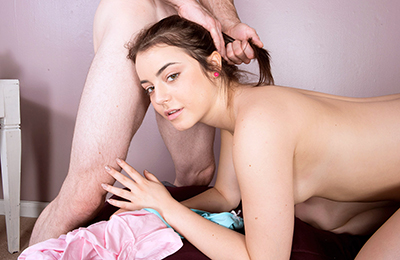 Conclusion
The 18Eighteen has a very fine selection of porn for you. In fact, the site just becomes 18Eighteen this year, and as it's now an adult, it can do whatever it likes – just as these hot cuties it features. This is a long-running website, and you should appreciate it since there is great work behind it. When you open it, you might come to the conclusion that these videos are the ones you need, and even though they add only one video every week, this selection is great and continues to grow. You know, we would recommend the site on its own, but since it offers you two additional porn sites, we are more than happy to recommend it to your attention.
Back to the other pay porn OR read more on 18Eighteen.